Ion Beam Milling Systems
NANO-MASTER's Ion Beam Milling and Etching systems are field proven, fully automated systems that provide ease of use, high reproducibility, and reliable performance with extremely good uniformity.
A variety of sample holders and Ion Source configurations allow for a diverse range of applications to be carried out. Sample holders used in NANO-MASTER Ion Beam Milling systems have ±90° tilt, rotation, water or LN cooling, and helium backside cooling capabilities. For temperature sensitive applications, NANO-MASTER technology has demonstrated capability of keeping substrate temperatures below 70°C. Heating is also possible via a heating element embedded within the platen assembly. In certain other applications, heating samples above 150°C is desired for increased volatility of materials etched and thus increasing the etch rate. By tilting the sample, the sidewall profile can be controlled and radial uniformity can be optimized. Rotation in conjunction with offset of axis of rotation from ion beam axis provides broader radial thus more uniform etch profile.
Various options are available for different grid configurations and neutralizers. Sources such as RF ICP, compatible with reactive gases, provide etch selectivity and etch rate improvement. A sputtering option can be provided for coating freshly etched metal surfaces to protect from oxidation. A load lock chamber with or without turbomolecular pump and automatic load and unload capability is also available.
NANO-MASTER can provide dual chamber systems with RIE and Ion Beam Milling as a platform capable of etching almost all materials or Sputtering and Ion Beam Etching System for etching gratings and coating them on a single footprint. Furthermore, two chambers can be connected with auto wafer load and transfer load lock between chambers if two processes need to be carried out without breaking vacuum. Such a dual system reduces the cost and foot print compared to two separate systems by using a common pumping system, power supplies, and control electronics.
Electropolished 14" SS cubical chamber
Up to 8" wafer or substrate holder
±90° automatically tiltable and rotating
Water or LN cooled, optional He backside cooling
Sample temperature <70<C
Ion source
Gridded KDC Kaufman source (1cm-16cm beam sizes available)

DC for Ion Milling
RF ICP for Reactive Ion Beam Etching

Pneumatic shutters
Ion beam neutralization
±2% etch uniformity across 6" substrate
Turbomolecular pump backed up with dry backing pump
5x10-7 torr base pressure
Ar mass flow controller
PC controlled with LabVIEW software
Recipe driven, three levels of password protected access
EMO protection and safety interlocks
26" x 44" footprint with enclosed panels
Compatible for Class 100 clean rooms
Spectroscopic end point detection
Helium backside cooling
Electro-polished 20" SS cubical chamber
Load lock
Auto load/unload with substrate carrier
1200 l/s turbo molecular pump for 10-8 Torr range base pressure
Cryogenic pumping package
Additional MFCs for reactive gases
Gridless End-Hall eH sources for high current low energy beam surface cleaning
Gridded RF ICP sources
Hollow cathode beam neutralizer
Sputtering source for passivation layer deposition to protect freshly etched surface from oxidation
Argon Milling for Planarization
III-V Photonics Components
Laser Gratings
High Aspect Ratio Etching of Photonics Crystals
Deep Trenches on SiO2, Si and Metals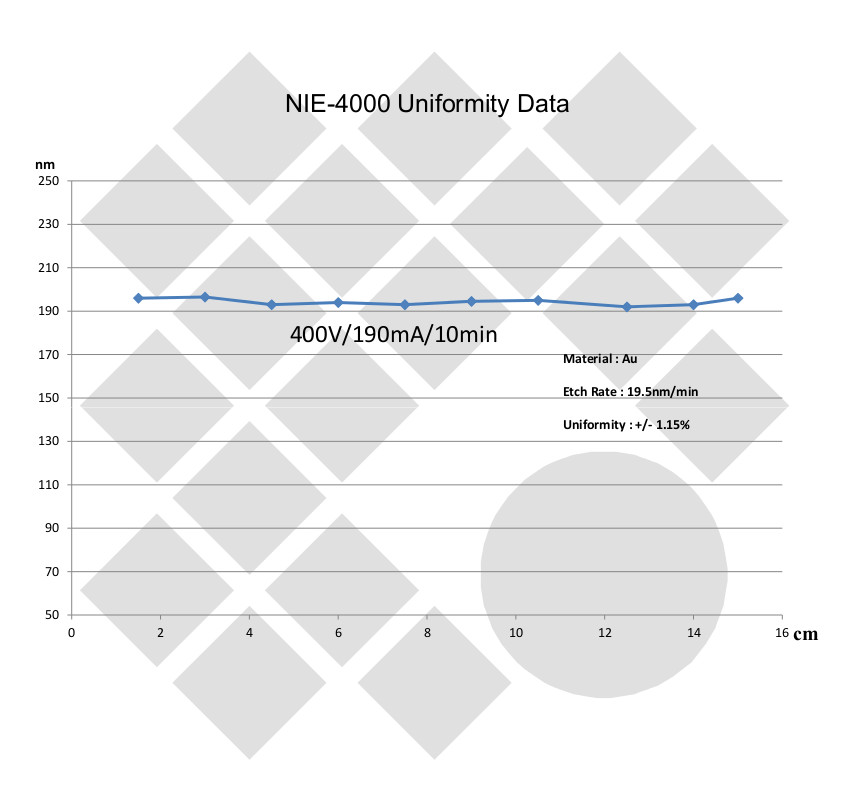 Ion Beam Milling Data
Download Ion Beam Milling System Brochure